Details

Category: Diamond Layering
DIAMOND CRYSTAL / FULLERENE DEPOSITS
We have strong indications that our systems deposit fullerene structures on conductive materials like copper, gold, silver and alloys. This needs to be confirmed by further testing by competent scientific institutes.
We have proof however that our systems deposit diamond-like crystals on various types of conductive materials, where the electronic diamond tester indicates the presence of diamond. The professional diamond testing device used is the

Diamond Selector 2

of the Culti brand.
Tests performed with the Electronic Diamond Tester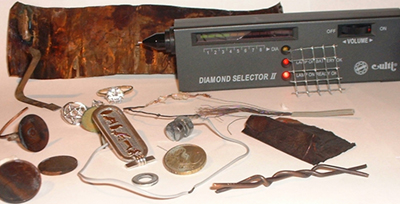 Several objects were introduced into static Keshe reactors. The image above shows some of the tested objects, which are: Copper and Nordic gold eurocent coins, a silver ring, a gold ring with a diamond, electric copper wires, a telephone wire, nut and bolt, a washer, an Egyptian cartouche of pure silver with gold-plated symbols, knotted copper strands, copper foils, a lattice, a rusted piece of metal. Other objects were treated similarly but the results are not disclosed yet.
RESULTS OF TESTS
All objects are coated with diamond or fullerene layer
(s)
5 eurocent coin
Material: steel + copper layer

10 eurocent coin
Material: Nordic gold

Metal washer
Material: iron alloy

Egyptian cartouche
Material: silver + gold
plated symbols

Egyptian cartouche
Material (back): gold
plated

Nut

and

bolt
Material: metal alloy

Silver ring
Material: silver

Gold ring
Material: gold

Diamond
Material: diamond

Lattice
Material: metal alloy

Copper foil
Material: copper

Piece of rusted metal
Material: steel

Strand of fine telephone wire

Material: copper

Strands of fine telephone wire
joined by atomic layers
NEW MATERIALS AND SURFACE TREATMENTS
This new atomic deposition process can be used for all kinds of industrial processes, such as the protection
of silver objects
against oxidation, anti-humidity/waterproof protection layers on the electronic parts of mobile phones, computers, cameras, televisions and satellites, the production of new types of integrated circuits, new types of electronic parts like capacitors, LED's, switches, etc., the inner and outer protection of metal tubes,
and
the surfaces of airplane
wings
, engine and gear parts, etc.