Details

Category: Interviews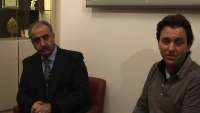 (videointerview is in English)
Spiritueel Café TV (SCTV) is voor Bovendien.com afgereisd naar Ninove, voor een exclusief interview met Mehran Keshe. We voelen allemaal dat we aan het eind van 'iets' zijn gekomen. Het is nu dat we geroepen worden om dat te doen waarvoor we in de wieg zijn gelegd. Het isnu dat we beginnen te beseffen hoe groots we zijn. Het leven dat we leiden harmonieert niet met wie wij werkelijk zijn. Ziekte, tekort, een vervuilde leefomgeving: het past niet bij ons.
Anno 2012 gloren er steeds meer nieuwe wetenschappelijke bevindingen aan de horizon die zo revolutionair zijn, dat we onze wereldbeeld moeten gaan bijstellen. Wat als ziekte uit ons bestaan wordt gewist? Wat als overvloed, schoon water, vrije energie en gezondheid voor iedereen binnen handbereik ligt? Wat als er technieken bestaan waardoor elke cel in je lichaam zich zijn oercode herinnert en daardoor weer functioneert zoals oorspronkelijk bedoeld?
Details

Category: Interviews
Mehran Keshe presenting at EindhovenElektor invited on sateruday 26th of November Mehran Tavakoli Keshe for a demonstration of his inventions in the field of free energy.
Elektor, publisher of electronics magazines and organiser of fairs presenting new technology, has been in contact with Keshe for years to research his technology.

Tijdens Live! gaf dhr. Keshe afgelopen zaterdag dan ook uitleg over zijn ontdekkingen en een aantal demonstraties. De demonstratie werd gegeven in het Engels en was goed te volgen via een groot videoscherm.
Meer dan 1000 bezoekers vulden het Evoluon afgelopen zaterdag, allemaal naar Eindhoven gekomen voor meer dan 20 lezingen, diverse demonstraties, een enthousiaste groep exposanten. 's Ochtends workshops, en gedurende het beursgedeelte konden bezoekers de stands van de exposanten bezoeken, lezingen bijwonen, praten met redacteuren en ontwerpers, kijken naar robot- en mechatronica-demonstraties door studenten-teams. En ook meedoen aan de elektronica-quiz. 's Middags stond er een demonstratie over alternatieve energie op het programma, een onderwerp dat onverwacht veel extra bezoekers trok. (wtk redactie)